Our decision will be made on the 30th May!
2019 Gym Trip Options and ROUGH Itineraries below. Please only vote if you're serious about coming, even though you're not committing yet! Our gym trips are all about OPPORTUNITY! We want to create these chances for you to experience new things, stretch yourself emotionally, and personally work towards something exciting and fulfilling outside of work and family life.
At a minimum, all these trips include most meals, accommodation, transfers, airfares and training. Some include equipment hire, park fees, and guides. More details on inclusions and exclusions will be delivered once we choose our trip and lock in dates and pricing! These figures are BALLPARK! You can vote for more than one!!
Option 1 – Nepal by Mountain Bike $3400
Day 1 – Arrive and stay in Kathmandu
Day 2 – Drive to Pokhara by Van and stay
Day 3 – Fly to Jomsom and bike to Kagbeni
Day 4 – Bike to Muktinath
Day 5 – Bike to Tukuche via Lubra Valley
Day 6 – Bike to Tatopani (hot springs)
Day 7 – Bike to Beni and transport to Pokhara, stay overnight
Day 8 – Free day in Pokhara
Day 9 – Drive to Kathmandu, stay overnight
Day 10 & 11 – Safari in Chitwan National Park
Day 12 – Free day in Kathmandu (cultural tour $50)
Day 13 – Departure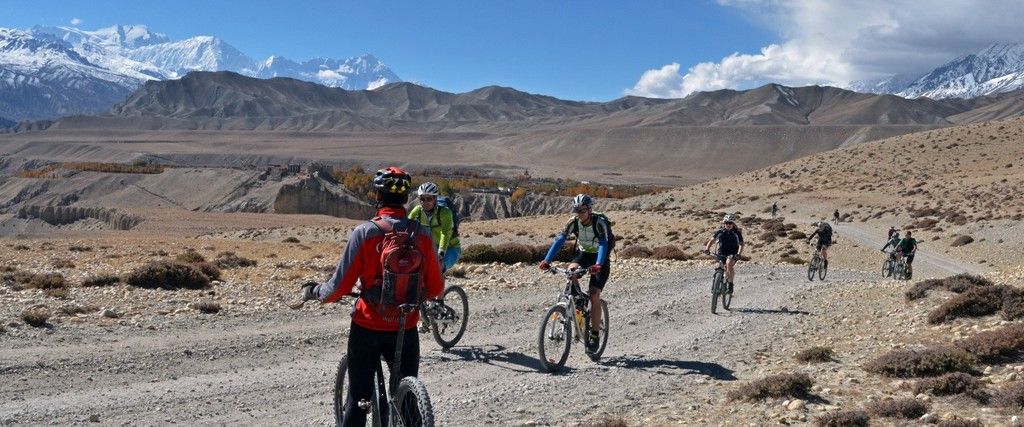 [Photo: http://photobucket.com]
Option 2 – Samoa Bike & Kayak $3999
Day 1 – Nu'usafe'e Island Paddle
After a briefing we will fit your kayaks to you and set off for Nu'usafe'e Island.  The trip begins with a 5 km paddle within the reef giving you plenty of time to get acquainted with your kayak.   As we approach Nu'usafe'e we cross the inner reef and have a number of choices on how we approach the Island.  For confident groups this can be a chance to try their skills in small surf and to experience the open ocean swells.
The island is uninhabited and has two beautiful white sand beaches and its own private lagoon.  We stop for a leisurely lunch, swim, snorkel and explore but no-one is in a rush to leave.    The nearby mangroves at Poutasi provide a calm contrast and are always worth a tour if people can be persuaded to leave the island.
Another alternative for very experienced groups is an afternoon paddle down the coast to Aganoa Beach and on to Sinalei Resort.  However this is an open ocean paddle with an exposed lee shore and will only be done in the right conditions and with a group that is clearly capable.
Day 2 – Aleipata Islands Paddle
There is much to see in the Aleipata islands, but some of the best is dependent on swell, tides and wind, so the itinerary is always flexible for these three days.
Day 3 – Namua Island Paddle
Normally we will put in at Lalomanu and paddle to Namua Island.  The route is dependent on swell conditions but with a little luck we will be able to exit through one of the small reef channels and cruise past Nuutele Island.  As we approach the Island we will be closely monitored by large boobies that soar and swoop above us.
Dolphins are often present in the main bay and as we approach the main channel back into the lagoon we are likely to see large turtles on the surface.
Our destination for the day is Namua Island which will be our base for 2 nights.  The fale resort is located on a very sheltered, sandy beach and being the only habitation on the island , with no electricity there is a real sense of a tranquil, remote getaway.   It's a great place to relax, but also a fun place to explore.  At low tide it is possible to scramble around the base of the island, exploring the hidden beaches on the exposed East coast.  The climb to the top of the island is also well worth the effort for the views over the reefs and bays, and a chance to study the seabirds soaring close to the cliffs.
Day 4 – Fanuatapu Island Paddle
Fanuatapu lies on the edge of the reef with a sheltered beach within the lagoon.  From the lighthouse at the top we get a close up view of frigate birds in aerial dog-fights with searwaters and other smaller birds (frigates lack waterproofing oil in their feathers and feed either by skimming the sea surface or stealing food from other birds).  On clear days American Samoa is visible 70 kms away on the horizon.
On the return from Fanuatapu there are opportunities to snorkel over the coral gardens.
Day 5 – Nuutele Island Paddle
Nuutele lies entirely outside the reef and so access is dependent on swell conditions.  The cliffs on the East side are home to numerous seabirds and we get a unique view of them nesting in the cliff holes and clifftop trees.  If conditions are right we will land at the abandoned Leper Colony which is located on a spectacular beach. The remains of the colony are still present, but the storm debris spread almost 100 metres inland to the foot of the old buildings is stark reminder of how isolated and tough living here must have been.  There is a resident pod of dolphins in the bay and we have occasionally had whales breach nearby.
Day 6 – Nuulua Island Paddle
This is the most remote and exposed island in the group.  The only landing place is on the exposed Eastern side so we are more likely to admire the birds and cliffs from the water than land.
Day 7 – transfer to Bike tour in Apia
We will meet you at the airport and transfer you to your choice of either Le Vasa Hotel or a village homestay.  The hotel is ideal for traveller wanting an afternoon of luxury, while the homestay suits those arriving in the evening and provides an introduction to Samoa in a modern home with local hosts.
Day 8 – To Matareva (32 kms)
After fitting the bikes and a full briefing the 15 km gentle ride around the coast is a very pleasant introduction to village life.  At Falelatai the road heads steeply uphill for 2kms. However, you get to the top the views over lagoons are well worth stopping for.  The downhill section is only partly sealed but the road improves for the last 3 kms around the coast to Le Faga bay in Savaia home of the Giant Clams .
Follow the Main South Coast Road into the centre of the village (100m) where it turns left.  Then turn right in another 100m by the school and continue parallel to the coast.  At 2kms the road ends in a T junction, turn left and climb gently then turn right onto the Main South Coast Road at 4kms.  5 kms – Turnoff to Matarava Beach.  Survivor Australia is currently being filmed nearby and we will advise which of the two roads is open on the day. This is a hidden gem and lovely picnic and swimming spot. It's 4 kms downhill to the beach and there is a small road toll.
Day 9 – Matareva Beach Day
Matareva Beach Fales are located on a secluded and private lagoon.  The resort has recently reopened under new management and is rapidly regaining its reputation as one of the hidden gems of Upolu.  Relax on the beach, swim in the lagoon or explore the surrounding beaches.
Day 10 – Matareva to Vai Villas (12kms)
Today's ride is only 12 kms to Vai Villas which is situated on the mangrove swamps and Lua and Jills hospitality and great food make it a memorable stay.
Day 11 – Vai Villas to Tafatafa Beach – Togitogigi Falls  (24kms)
The route follows the undulating sealed coast road and while it's easy to focus on just getting  to the destination, there is a lot to do along the way.  Potential stops include the Sinalei resort for a taste of luxury, Aganoa Black sands beach for a remote sandy beach with good snorkelling and the walk to the Ma Tree.  But my favourite is a long swim at Togitogiga waterfalls. Your ride ends on the lagoon beach at Tafatafa.  With clear water, safe swimming, fales at the water's edge.
8 kms – Maninoa.  This bay is home to Coconuts and Sinalei Resorts with the fiafia Club nestled in between.
10 kms – Cross Island Road junction.
14 kms – Ma tree and Coastal Walkway. It's a short forest walk to this tree with large buttress roots.  Directly opposite is
the road down to the coastal walkway. This runs along the top of the lava cliffs.
16 kms – Togitogiga Falls.  One of the best freshwater swims in Samoa.  The turnoff is well signposted and it's only a
very short ride to the changing rooms and toilets by the falls.  The pools are a good place to cool off, but the
adventurous will jump the falls.
19 kms Poutasi Development Trust arts centre.  Poutasi was destroyed in the 2009 Tsunami.
Here you can try your hand at various crafts or just buy well-made local items.  Judging by how long our
groups spend here – it's a popular stop.
23 kms – Take the third turnoff to beautiful Tafatafa Beach
Day 12 – Tafatafa Beach Day
After a full schedule of riding and kayaking you may be ready for a relaxing beach day. Tafatafa Beach is a stunning white sand beach.
Nearby at Vaiula Beach Fales Nugg runs a great bar/lunch and Dave is a renowned fishing guide who can offer fishing trips inside and outside the reef. There is also a lava tube tour you can ask about.
Alternatively take the optional kayak tour to Nuusafee Island.  A deserted tropical island with its own beach and lagoon (additional cost).
Day 13 – Namua Island getaway (31kms)
Get on your bikes early as there is a lot to do again today. 13 kms down the road is To Sua Trench. This collapsed lava tube is one of the picture postcard attractions of Samoa  with the steep ladder leading down into the sea water pools. The trench and surrounds deserve a couple of hours at  least. Take in the seascape, blowholes, beach and history along with a gentle swim in the pool.
When you eventually drag yourselves out of the pool, ride another 13 kms to Lalomanu Beach and then on to Namua Wharf where you can catch the ferry to Namua Island. The fale resort is the only habitation on the island and is located on a sheltered sandy beach.
Day 14 – Namua Island to Le Uaina (40 kms 400m climb)
Catch the ferry back to the mainland and make sure that you start early so that you are climbing up to Le Mafa pass in the cool of the day. We recommend that you return along the coast and take the cross island road just past Lotofaga. Take in the waterfalls along the way and then at Le Mafa Pass you are rewarded with great views looking down to the North coast. It's a pleasant ride down and along to Le Uaina. At le Uaina you can snorkel out to the reserve to see a variety of coral and reef fish. Piula Cave Pool is just next door also.
Le Uaina is a comfortable waterside hotel fashioned more like a traditional NZ motel.
Day 15 – Le Uaina to Apia
Just after you start make a point of visiting Piula Cave Pool (if you missed it the day before) which is a very refreshing  pool below the historic Methodist Chapel at Piula. It's then a coastal cycle till you reach the hectic pace of Apia. You need to head down towards the waterfront and then further along past the government buildings till you reach the Amanaki Hotel. You may have time to do a little sightseeing.
Day 16 – Homeward bound
Depending on your flight time you may have time to explore Apia. Apia has a lot to see. If you are up early enough visit the fish markets to see several colourful and large fish. The flea market has many local handicrafts. The Cultural village behind the visitors centre is well worth a visit. By taxi you can visit the Sliding rocks, Robert Louis Stevenson Museum to see his home & resting place and stop off at the soap factory which is a nice place to purchase souvenirs. Further up the Cross Island is the Bahai Temple set in tranquil grounds overlooking Apia. Palolo Deep, just out of Apia, is a great place to snorkel but best visited when the tides are near high tide.
Option 3 – Mount Kenya, Africa $6184
Part 1 – Mt Kenya
Nairobi (1,650 m.) – Old Moses Camp (3,340 m.)
A.M transfer: Nairobi to Sirimon Gate (225 Km./ 4hr.)
P.M trek: Sirimon Park Gate (2,600 m.) – Old Moses hut (3,340 m.)
Ascent: +740m
Span: approx. 10Km. / 3-4 hr.
Habitat: Montane Forest / Bamboo / Hagenia /Heather zones
Depart from Nairobi at 8 am to the western slopes of Mt. Kenya Nanyuki town for lunch, taking about 4 hours. After lunch, a full briefing and equipment check before you begin the mountain trek. You'll meet the crew at this point, each one has a personal porter and there are extra porters for mountain equipment and food.
It will take about one hour to get to the Sirimon Park Gate (2600 m.) crossing the equator en-route. On completion of park entry formalities, you'll begin a 3-4 hour hike through forest, bamboo, rosewood and heather zones to Old Moses camp (3300 m.). You'll experience an increase of 740 m. on the ascent and begin to truly acclimatize. The forest and bamboo are home to hundreds of buffaloes, elephants, bushbucks and a plethora of bird species. You'll spend the night at Old Moses camp also known as Judmaier Camp (3340 m.)
Day 2: Old Moses Camp – Shipton's Camp
Altitude Change: – Old Moses Camp (3,340 m.) – Shipton's Camp (4,236 m.)
Ascent: +900 m.
Span: approx.14 Km. / 7-8 hr.
Habitat: Moorland zone.
After an early breakfast, you'll start a 7-8 hours trek to Shipton's camp (4,236 m.). This is a long trek and a good test of individual fitness. You'll ascent close to 900 m. going up the surreal Mackinder Valley with its strange vegetation of giant lobelia and groundsel, unique to equatorial African mountains. You'll stay at Shipton's hut (4236 m.), just below the glaciers and jagged peaks of bare rock that surround the main summits.
Day 3: Shipton's Camp
Spend the day acclimatizing. Walk to Kami Hut down to Hauseberg Lakes (Hauseberg Tarn and Nanyuki Tarn). Walk back to Shipton for dinner and overnight.
Day 4: Shipton's Camp – Point Lenana Peak– Mintos camp – Meru Mount Kenya Bandas
Altitude Change: – Shipton's camp (4236m) – Pt. Lenana (4,985m) and down to Mintos camp (4300m) then to Meru Mount Kenya Bandas (2950m)
Ascent: 749m to the summit.
Span: approx. 7 km, 5- 6hrs from Shipton's camp to Pt. Lenana down to Mintos camp 6km, 2hrs then to Meru Mount Kenya Bandas, 20km, 4-5hrs
Habitat: Scree / rocky summit / Moorland
Early at predawn, you'll start the summit attempt from Shipton's camp. This trekking combines a demanding attempt of the summit and then descends down to Mintos camp then to Meru Mount Kenya Bandas. This task is really challenging and needs a lot of resilience. You'll need a bright head torch for this. You'll go up steep rocky tracks to reach the hiker's summit, Pt Lenana at 4,985m in time to witness the African Sunrise as it reflects its golden glow on the Majestic peaks of Batian and Nelion over the equator at 6:30 am. The Kilimanjaro is usually visible 340 km. to the south on a clear day. The climb is tough and requires some scrambling on the final stretch to reach the summit: this is unavoidable on any route. After celebrating the achievement, you'll descend down to Mintos hut (6 km.), you'll have 2 hrs for breakfast and then a 20 km., 4-5 hr. descent down to Mount Meru Bandas and the campsite, 2950 m., through the Gorges valley. The route passes the enchanting Hall Tarns and looks down sheer cliffs into the spectacular Gorges Valley and onto the beautiful Lake Michaelson. You'll witness wildlife with elephant and buffalo often grazing outside the cabins and large numbers of forest and moorland birds. Dinner and overnight on Meru Mount Kenya Bandas.
Day 5: Meru Mount Kenya Bandas – Chogoria – Nairobi
After breakfast, you'll start the descent to Chogoria (32 km.). 4×4 vehicles are provided but during bad weather, climbers may have to walk some distances as the vehicles may not reach the Bandas. From Chogoria transport is provided back to Nairobi, arriving late afternoon.
Part 2 – Safari
DAY 6: NAIROBI TO MASAI MARA GAME RESERVE
Pick up from your hotel in the morning and then depart to Masai Mara Game Reserve with a stopover at the Great Rift Valley viewpoint. Thereafter, proceed to Narok Town which is biggest Masai town and is famous for its Masai people.
You shall have lunch here and then proceed to Masai Mara. On arrival check in the Lenchada Tourist Camp or Rhino camp, then leave for the late afternoon game drive, return to the Camp for dinner and overnight.
DAY 7: MASAI MARA GAME RESERVE
The whole day is spent exploring the park's amazingly high concentration of game. This game reserve is Kenya's finest wildlife sanctuary, including migrants. Well over 450 species of animals have been recorded here.
Mara plains are filled with migrating wildebeests and zebras. There is also the resident wildlife all year round. The Maras gentle fertile climate bounded by the Rift offers perhaps the richest stocked reserve set within some 1672 square kilometers – an unlimited spectacle of wildlife.
Located 268 kilometers west of Nairobi, the emphasis here is on the game. Herds of immense elephants, browse among lions, buffaloes, Thompson gazelles, zebras, and topis. You may occasionally sight a rhino or a leopard.
In the Mara River, hippos play and crocodiles bask on the banks. The annual migration of a million Wildebeest follows the rains north. After exploring the park, return to the camp with an option of visiting Masai village. Dinner and overnight at Lenchada tourist camp or Rhino camp
DAY 8: MASAI MARA GAME RESERVE TO LAKE NAKURU NATIONAL PARK
There will be a pre-breakfast morning game drive, then return to the camp for the main breakfast. After the breakfast, depart for Nakuru with lunch in Narok town. After lunch, proceed onto Lake Nakuru arriving in the late afternoon. Dinner and overnight at Lanet Matfam Resort Nakuru
DAY 9: LAKE NAKURU NATIONAL PARK TO NAIROBI
After an early morning breakfast, proceed for a game drive in Lake Nakuru National park known for its millions of flamingoes and other water birds. Leave Nakuru with lunch on the way, arriving at Nairobi in the late evening.
Day 10: Departure
[Photo: http://photobucket.com]
Option 4 – Road Cycle West Coast Tassie $3470 
Day 1, Arrival -Evandale OR day off
The first day is an arrival day. The historic small town of Evandale is located just 3km from Launceston airport, a nice place to recover from the flight.
If you have concluded our North-east tour then you can have a rest day to explore the nearby city of Launceston, Tasmania's second largest city (pop. 80,000). If you are not interested in cities we can take this rest day out.
Day 2, Evandale – Mole Creek
The route takes you westwards on very flat, narrow country roads with little traffic, via the lovely shopping town of Doleraine, to the village of Mole Creek. You will pass the interesting honey farm in Cluddah (more than 50 types of honey with free tasting), an interesting animal park and a 40min return walk to the fascinating Alum Cliffs. Minimum distance to cycle: 98km (60m)
Day 3, Mole Creek – Cradle Mountain Nationalpark
Today there is a lot of climbing until you get into "high country". You'll be rewarded by breathtaking scenery. The final ascent to the Cradle Mountain National Park features some extremely steep sections. If this is too much for you may stay in Gowrie Park (only budget / economy category) and continue the last 24 km tomorrow. This way you can also visit the nice little town of Sheffield with its many murals. Minimum distance to cycle: 71 km (43 m)
Day 4, Cradle Mountain Nationalpark:
You can spend all day for exploring this impressive park. A níce short walk (2 hours) is the loop around romantic Dove Lake. You can even continue to the summit.
Day 5, Cradle Mountain National Park – Rosebery
Today's route is quite long and hilly, but goes more downhill than up through a wonderful landscape. The last 10km, however are really exhausting. Minimum distance to cycle: 70km (43m) OPTION: Stay here for 2 nights to be able to do the 3 hours to the Montezuma Falls and its suspension bridge.
Day 6, Rosebery – Strahan
At around lunch time you will have reached the little town of Zeehan, where there is a great heritage museum. It's quite hilly, but the last 40km are almost completely flat with a constant downhill. Minimum distance to cycle: 75km (58m)
Day 7 Strahan – day off
You can take a half-day Gordon-River-Cruise into the untouched Gordon River. On the afternoon you can visit nearby Ocean beach, with 33 km Tasmania´s longest. Or just have a rest day.
Day 8, Strahan – Queenstown
This stretch is a highlight for every cyclist, a narrow road winding through dense forest with 273 bends, to the old mining town of Queenstown, unfortunately more uphill than downhill. The surroudings of the destination look like a lunar landscape. Alternatively you can use the historic ABT-Wilderness Railway (costs about $115). Minimum distance to cycle: 42km (26m)
Day 9, Queenstown – Derwent Bridge
A quite exhausting but extremely pleasant section through World Heritage area with many opportunities for fantastic short walks. Your destination is the 3-houses settlement of Derwent Bridge. Minimum distance to cycle: 88km (55m)
Day 10, Derwent Bridge – Ouse
In the morning you can undertake a walk in the nearby Lake St.Clair National Park and later you'll follow the "Wildway" highway eastwards, more downhill than uphill. Minimum distance to cycle: 81km (50m)
Day 11, Ouse – New Norfolk
Today takes you back to civilisation. We strongly suggest an excursion to the Mount Field National Park and visit famous Russell Falls and the 'tall trees' (the tallest hardwood trees in the world). You will stay in the small city of New Norfolk. 62 km (39m)
Day 12. New Norfolk – Hobart
Its only 28km to your hotel in Hobart. For the last 12 km you can use a new bike trek, what was once a railway line. On the afternoon you got plenty of time to explore Tasmania´s capital. Minimum distance to cycle: 28 km (17m)
Day 13, independent departure 
Option 5 – Off Road Cycling Bangkok to Yangon (Myanmar/Burma) 10 Days / 9 Nights $4925
Trip Profile:

This cycling holiday from Thailand to Myanmar, start from Bangkok where we transfer to Ayutthaya to avoid the busy traffic. Visit Ayutthaya Historical Temples. This cycling trip has alot of historical interest including the Kamphaeng Phet Historical Park and Sukho Thai. Cross the Burmese border to Mawlamyine and cycle to Bago, The Battle of Pegu and finish in Yangon.
We aim to take tourists to see REAL lives in Thailand and Myanmar by taking the less travel routes by bike and in the trip can be extended Bagan, Mandalay and Inle Lake.
Tour Itinerary:
Day 1: Arrive in Bangkok
Arrive in Bangkok and transfer to Grand President Hotel. Bike Fitting and tour briefing. Dinner and overnight in Bangkok.

Day 2: Bangkok – Ayuthaya – Uthai Thani (Cycling 57km)
Breakfast at the hotel. Today we transfer 81km to Ayuthaya to avoid the busy part of Bangkok. We visit the historical temples in Ayuthaya for 1 hour. Ayuthaya was the capital for 417 years from 1351 until it was sacked by the Burmese in 1767. Then we start cycling along the quiet back road to Ang Thong. We arrive in Uthai Thani and if time permits, climb the Sakae Krong hill for the sunset view over the town and visit the hill top temple. Overnight in Uthai Thani.
Day 3: Uthai Thani to Kamphaeng Phet (80km)
After breakfast we start cycling from our peaceful and quiet resort hidden near the town center accessed by a small bridge on the other side of the river. We cycle on the bicycle route along Sakae Krang River. It has been the main vessel for Uthai Thani. Leaving the town behind we see the intersection of Sakae Krang river and Chao Praya River. Then we cycle along Chao Praya River. Today is one of our best ride to enjoy seeing the REAL Thailand, the countryside, the villages. We stop for lunch in Nakhon Sawan at the restaurant on the riverside overlooking the intersection of Ping and Nan river to become Chao Praya River. We finish our cycling at Km80 and transfer 1 hour on the highway 1 to Kamphaeng Phet. Overnight at the Riverside Resort overlooking Ping River.
Day 4: Kamphaeng Phet to Sukho Thai (85km)
Breakfast at the hotel. Today we cycle from our hotel to visit Kamphaeng Phet Historical Park. We spend 1 hour to discover the temples, then cycling to Phran Kratai for lunch. Afternoon, we cycle on quiet countryside road along Ramkhampaeng National Park. We arrive at Sukho Thai, founded in 1,238AD was the capital of Thai empire for 140 years before moving to Ayuthaya. Visit the temples in Sukho Thai Historical Park for about 1 hour and then cycle to our hotel. Dinner and overnight in Sukho Thai.
Day 5: Sukho Thai – Tak – Mae Sot (90km)
After breakfast, we cycle along the Sukho Thai Historical Park. Then cycle through one of the best scenery in the rural of Thailand. The scenery keep changing through the sugar cane farm, the villages, the rice field and the mountain view. Today we have packed lunch as there is no local restaurant in this remote area. After lunch we cycle through the beautiful and quiet jungle. We then transfer from Tak to Mae Sot located near the Burmese border. Dinner and overnight in Mae Sot.
Day 6: Mae Sot – Mawlamyine (45km)
Breakfast at the hotel. We transfer 139km cross the Burmese border at Myawaddy. The Burmese visa has to be applied in advance, and we need the copy of the visa and copy of the passport to help the border crossing process faster. After lunch, we start cycling at Ein Du through the rural tarmac road of Myanmar. The road is smaller comparing to Thailand. Myanmar is also much less developed comparing to Thailand. We arrive in Mawlamyine. Dinner and overnight in Mawlamyine.
Day 7: Mawlamyine – Hpa – An (75km)
After breakfast, we start cycling from our hotel. Our cycling route today is to Zar Ta Pyin. Then we turn right and cycle on smaller road. Today we stop for lunch around 50km, but if we have good energy we can cycle to Hpa An to have lunch and afternoon tour around Hpa An.
Day 8: Hpa – An to Kyaikto (89km)
Breakfast at the hotel. We cycle to Thaton, the former Kingdom of Lower Burma from 9th to 11th century. We stop for lunch in Bilin, the home to the famous Kyaikhteesaung Pagoda located on a laterite stone hillock near Zoke Thoke village. After lunch cycle to Kyaikto. Overnight in Kyaikto.
Day 9: Kyaito to Bago via Sittaung River (93km)
After breakfast, cycle to have the water stop at Sittaung River to enjoy this view of the river connected to the ocean. We stop for lunch in Waw. Afternoon cycle to Bago, The Battle of Pegu. Overnight in Bago.
Day 10: Bago – Yangon (Cycling 78km)
Breakfast at the hotel. We cycle 78km via Thanapin and Khayan. We stop for lunch in Thongwa. After lunch we transfer to Yangon, the capital of Myanmar, to visit Shwedagon Pagoda. Tour Ends.
https://into-you.com.au/wp-content/uploads/2018/04/Picture-422.jpg
768
1024
Clare @ IntoYou
https://into-you.com.au/wp-content/uploads/2020/01/Into-You_Master_RGB-1-300x120.png
Clare @ IntoYou
2018-04-30 10:47:27
2018-05-03 12:05:27
2019 Gym Trip Options